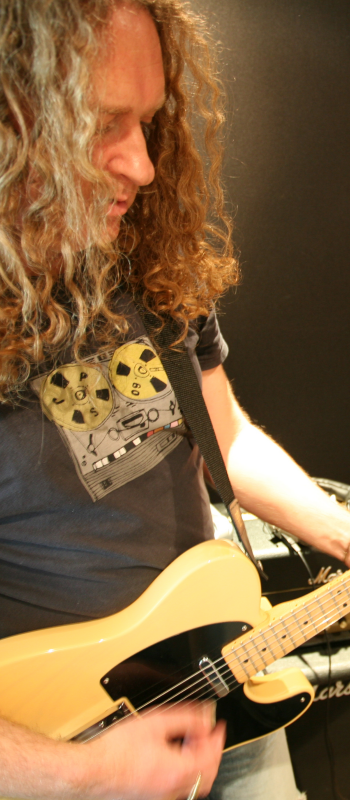 Online Sessions
I can offer the highest quality guitar parts for your compositions by reading your written arrangement or creating parts from rough chord charts.
My recording experience includes
Royal Philharmonic and BBC Concert Orchestra sessions
Countless advertising and corporate jingle sessions for Heinz, Levi's, Saab, BBC Radio and many others
Rachel Fuller album in Pete Townshend's Eel Pie and Thames barge studios
Sessions at Air, Angel and Abbey Road Studios where I've played on over 20 albums
Thomas the Tank Engine incidental music and songs!
There are several benefits to working this way. I don't have any travel time or costs, so I can offer you a more competitive rate than my normal session fee. You have the use of all my equipment and you can be getting on with other work while I'm recording your tracks.
How it works
Contact me to discuss your requirements and agree a fee
Send me a stereo mix of your track via Yousendit, Dropbox or similar
I will send back a rough, guitar heavy mix for your approval. This will not be a final version, but it will simply allow you to hear what I've done in context
Let me know of any modifications that need doing
Once you're satisfied, send payment by bank transfer or Paypal
I'll send you the full audio guitar tracks for you to load into your recording software
Any material intended for general release will be subject to the relevant paperwork. Please feel free to contact me for more information and my terms of service.
Equipment available includes
As well as having a thorough knowledge of most styles of guitar playing, I pride myself on always having the right equipment for the job.
Acoustic Instruments
Brook Creedy - parlour guitar, very sweet tone, as used on my song Shifting Sand
Fylde Olivia - 1980, warm mature tone, great for finger style
John Le Voi Maccaferri replica - Django!
Manson Kingfisher - 1982, small body with wide 12 fret neck, ideal for classical style, as used on my instrumental Raw
Taylor GS - robust tone ideal for strumming
Taylor 714 - warm sounding, excellent all round guitar, used on Dare
Taylor 850 - 12 string, used on No Other Way
Taylor NS72ce - nylon string
Takamine - classical guitar
Dobro - excellent slide guitar
Banjo
Fylde Signature Touchstone Mandolin
Ukulele
Electric Guitars
Burns Red Special - used in conjunction with my Vox AC15 and treble booster for those unique Brian May tones
Fender Telecaster - with Bare Knuckle Blackguard pickups, used on Siren Song
Fender and Schecter strats - with Bare Knuckle, Lindy Fralin, Seymour Duncan pickups, for vintage and modern strat tones
Gibson Custom Shop Les Pauls - as used on Pleasure and Pain, I Can Make A Woman Of You
Gibson 335
Gibson SG
Gretsch Spectrasonic Baritone - tuned down a 4th
Ibanez Steve Vai Jem - RAAAAAK!!!
Rickenbacker 12 string as used on the chorus of Dare
Amps
Fractal Audio Axe-FX Ultra - the best software modelling processor on the market. Listen to the solo on my song Love Divine. Half of it is my Marshall amp and half of it is the Axe-Fx. Can you hear the join?! And it's not when the wah wah pedal kicks in!
Cornell Voyager - hand-wired, sounds like a vintage Fender Deluxe, beautiful clean and slightly driven tones, used on Reason's Demise and Self-fulfilling Prophecy
Cornell Plexi - hand-wired Marshall blues tones, used on Will I Ever See You Again?
Cornford Hurricane - unique sounds somewhere between Vox and Marshall. Used on the solo in No Other Way
Vox AC15 - hand-wired
Marshall 1959HW - hand-wired, classic rock tones, used for Pleasure and Pain riff
Audio Examples
There are examples of my studio work on Soundcloud. You can also have a listen to my album tracks on my media page.
Testimonials
"Dave is a fantastic player - versatile, quick, knowledgable, helpful and extremely efficient. The ideal guitarist for all my diverse stylistic session needs. Whether its 00s Rock or 40s Jazz, and anything in between, Dave is my guitarist of choice."
Andy Spiller - Producer
"I've known and worked with Dave since the late 80's on stage and in studio. He's quick, versatile and easy to work with, with great time and feel. Highly recommended."
Steve Williams - Chapel Studios
"I have been working with Dave Holmes for over 15 years - he is and always has been my first choice guitarist. As a composer for TV, commercials and film, my deadlines are invariable tight. With Dave, I know I can get him in to the studio and, even with the vaguest of briefs, he will come up with great musical ideas and excellent suggestions for sounds. Perhaps most of all - and something I always look for - he is very easy to work with, very versatile and will work on something until it's right - without fuss and with good humour. One thing I must also say ...his timing is superb! Of course, like all guitarists, he turns up to a session with far too many guitars!

What can I say ...use Dave, you won't be sorry!"
Robert Hartshorne - Composer
"Dave always slots in to any recording session instantly. The versatility on all the instruments he plays is extremely useful to any film composer who may need a whole range of Eastern European effects, pastoral classical guitars, 12 string, banjo or classic rock. He offers creative suggestions for layering different instruments to produce original textures which inject real spirit to the end result"
Steve Hamilton - Honey Music