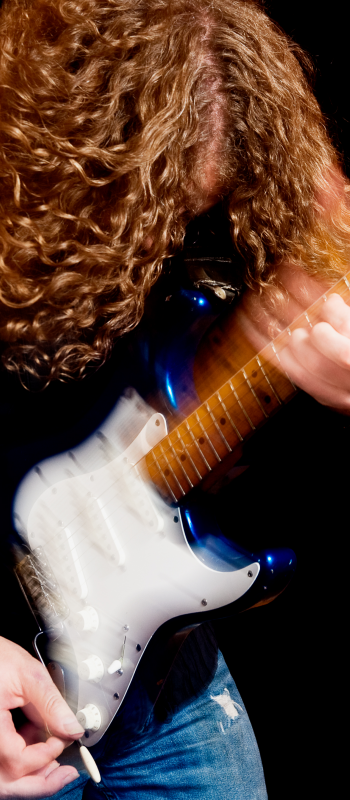 12 Hours To Please Me
I arrived at Abbey Road at 8.15am. Studio 2 was already full of musicians, sound engineers, tv producers, crew and photographers. The band consisted of: Mike Dixon (MD/piano), Ralph Salmins (drums), Phil Mulford (bass), Neil Angilley (keyboards), myself and Huw Davies on guitars. The idea was to record each song in the style of the artist performing that song. So we weren't trying to sound like the originals. In my guitar arsenal: Gibson 335 and Les Paul, Schecter strat, Fender tele, Taylor acoustic and, as an afterthought, my Rickenbacker electric 12-string. George Harrison had used one on later recordings such as "Hard Day's Night" and its a guitar that I associate with the early Beatles sound, so I thought it might come in handy. When I don't know in advance what sounds I need to produce, my amp of choice is always my Cornell Voyager. Hand-wired, vintage Fender-like, warm, clean tone. My pedalboard provides me with a variety of distortions, overdrives and effects.

The Beatles famously recorded their first album in 12 hours. By today's standards that sounds like a monumental effort. As far as I know, all recording back then was done live; no repairs or overdubs. To be a recording artist/musician you had to be 'match fit' and able to produce a perfect take virtually every time. The Beatles had been playing live every night for quite some time, so they were well rehearsed for this session, although to get all those vocal harmonies down in a day is quite something.
There was a special schedule to our day. Detailed records have been kept with the exact times that each song was completed. We were to perform our versions, broadcast live on Radio 2, at the same times through the day. What a brilliant idea! Everything was being filmed for a tv documentary later in the week.

After setting up we had some time to look at the charts and run a few numbers, before the artists started to arrive. Huw and I were left to our own devices when it came to guitars and sounds and I opted to use my telecaster for the first few tunes. There were a few self-contained acts, like the Stereophonics, but we played on most of the songs with artists such as Beverley Knight, Joss Stone, Paul Carrack, Mick Hucknall, Ian Broudie from Lightening Seeds and Blur's Graham Coxon.

Reading musicians are sometimes given a hard time, usually from non-reading players and accused of lacking soul and feel. This snobbery is utter bullshit and says more about the insecurities of those non-readers. There are bland, soulless players and there are soulful players with great feel. But it has nothing to do with reading music. What is usually true, however, is that even the best readers will sound better once they've become more familiar with what they are playing. It's unfair to judge someone's playing when they are sight reading something for the first time.

When it comes to the guitar, there is so much information which cannot be put to paper. Sometimes, a guitarist can interpret a chart in several different ways while still remaining true to the dots. Sometimes, parts are just written inaccurately, usually by musicians who don't know what can and can't be done on the guitar. Sometimes even the best player and reader needs a little time to figure out the best approach and interpret the intentions of the writer.

An example of this was Ian Broudie's rendition of "Do You Want To Know A Secret?". Before Ian arrived, we had a run through. My part was labelled for 'electric guitar' and turned out to be a solo accompaniment for the first verse. The verse chords were voiced rather strangely, so I gave up on those and tried to figure out how best to deal with it. There were so many ways to approach this: stick to the part or embellish?; full voicings or small ones?; rhythmic or more colla voce?; pick or fingers? Let the chords ring or slightly mute them? Surely, this should be played on acoustic? Without being able to listen to Ian's demo or discuss it with him, it was impossible to know.

He didn't like my solo accompaniment. It was the wrong sound and he opted to play the part himself on acoustic guitar. I was a little disappointed not to have the opportunity to go through some of the options with him and get it working, but mostly I was relieved! Playing anything by yourself on live radio, with tv cameras pointing at you is daunting. And trying to follow a vocalist sitting on the other side of the room, with his back to me could have been tricky.

It's useful to have a thick skin in situations like this. We all want people to like what we play. One of the worst situations to be in while recording, is watching the people in the control room discussing your last take (especially if they're frowning and shaking their heads!) while you sit in silence waiting for the verdict.

My mood was lifted when Mick Hucknall came in to rehearse "Anna". I'd had a quick look at the riff and thought my Rickenbacker 12-string would suit the part. After the first run through, he turned to me and said, "I love that!" Thanks Mick!

The day finished with Beverley Knight's version of Twist and Shout. What an incredible vocal performance and a fitting end to a fantastic day in that famous studio.
Dave Holmes 27/02/2013