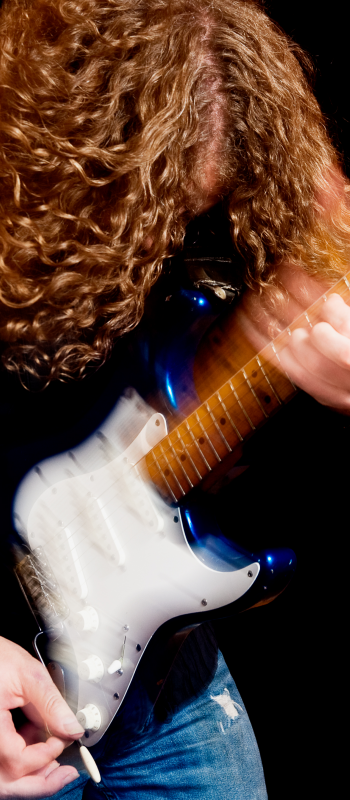 Meeting Heroes part 2
Meet Heroes part 2

Brian May

I mentioned meeting Brian May at my auditions for "We Will Rock You" in a previous blog. During the third and final audition, which lasted 90 minutes, I'd learned everything note for note, but I could tell he wasn't totally convinced. Eventually he came over, "I'm not hearing the sound and I want to check that it's not the equipment." I handed him the replica Red Special guitar they'd supplied for me to use. Then guitar legend, Brian May, stood right next to me and played a Bb note on the third fret of the third string. Just one note; but the tone, vibrato and emotion that poured out of that one note left me stunned. I thought, "I can play all your solos accurately but if I need to be able to do that, forget it!"

Pete Townshend

A few years ago I started working with singer/songwriter Rachel Fuller. Rachel is an incredible classical pianist as well as a talented singer and writer. She's also Pete Townshend's girlfriend. Pete had played on her first album and was about to play at her album launch. I was called to take over the live work from then on. I was invited to attend the rehearsals for the launch gig so I could sit with Pete and learn the guitar parts. What an opportunity; to sit with a true guitar legend and watch him play at close quarters. Even at quieter rehearsal volumes, Pete was incredibly powerful. I've noticed this with great drummers too during quiet rehearsals. For me, "powerful" playing is not a volume thing, but to do with feel and commitment. Pete played with TOTAL feel and commitment. Couple that with gig volumes and the effect is incredible.

In the following months, Rachel's band performed with Pete at two intimate gigs. There's some footage on my media page of us playing the Who song "I'm One" at the Bedford Arms in Balham.

Ronnie Wood

Many years ago, I was called to play at a wedding on a Sunday night in Newmarket. It wasn't until I arrived that I found out that it was jockey Frankie Dettori who was getting married. Needless to say, there were a fair few celeb guests, including Ronnie Wood. I was asked if I would lend my guitar to Ronnie so he could play a tune during our break. At first I said no. I had just one guitar with me; a brand new Ibanez with beautiful cherry-stained flame maple top and gold hardware, that I'd bought only a few days before. But then, I thought, well, Ronnie Wood is a legend and I felt mean about depriving the wedding guests of a unique, intimate performance from the Stone's man.

We finished our first set and Ronnie approached me. He was brandishing the neck of a wine bottle, which he'd broken off to create a slide. One end of that thing was a ring of razor-sharp, broken glass. I thought, you're not putting that anywhere near my immaculate new axe! Luckily I had a slide in my gig bag which I gave him. As he took his place on the stage, he started trying to tune to an open tuning, not realising that the guitar had a locking nut. I ran on with my allen key to loosen it. "Ronnie, this guitar's got a locking nut", "Oh man, get me one without", "It's the only guitar I've got with me!"

Once tuned, Ronnie played 'Amazing Grace'. It was one of the most emotional, moving performances I've ever witnessed.

For me, music is about communicating emotion. These three legends have spent their lives expressing themselves through their instruments with openness and honesty, playing the guitar exactly how they want to play it. The commitment, power and emotion they project is mind-blowing and incredibly inspiring and moving. I believe we only become great musicians when we give up trying to impress and start being true to ourselves.
Dave Holmes 13/01/2013