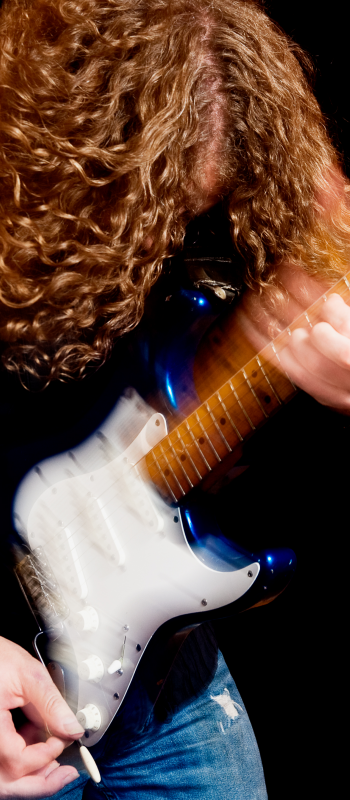 Meeting Heroes part 1
Gordon Giltrap

I first became aware of Gordon Giltrap when he performed "Heartsong" on Top of the Pops in the late 70s. Prior to that I'd been teaching myself the acoustic guitar fingerpicking of Ralph McTell. By the time I was 13, I was a pretty good finger picker but Gordon's playing took things to a whole new level. "Heartsong" was influenced by Pete Townshend's ferocious "Pinball Wizard" strumming. It was full of confident energy and had an intricate finger style solo section in the middle. I'd never heard anyone strum so fast and never seen such a strong and lightening quick left hand, especially on the acoustic guitar. For the next few years I dedicated myself to working out Gordon's instrumentals, inspired by the fact that I could perform them on my own at school assemblies, at family gatherings and in local folk clubs. I wrecked several of my Mum's cassette players with my constant play/rewind/play as I attempted by ear to figure out what he was doing. His tunes opened my ears to the English composers Elgar, Vaughan Williams and the lute music of John Dowland.

Years later I started depping on the musical "Blood Brothers" in the West End. Rod Edwards, the MD used to be Gordon's producer/keyboard player and once I'd established myself as a regular dep, I told Rod that I'd been an avid fan and hadn't missed a tour. The very next morning I got a call from Gordon's wife, Hilary. Gordon himself, had had to go to a rehearsal but not before getting a call from Rod relating our conversation. She asked me if I would write an article for their monthly newsletter about my memories of those early tours. I went to see Gordon perform at least six times through my teens. I wrote about the immense excitement of entering the auditorium at the Brighton Dome and running down to the stage to look at the huge drum kits played by Clive Bunker or Ian Moseley. Massive kits were all the rage back then and it wasn't uncommon to see six toms, roto toms and octobans all in the same kit! I would salivate over the array of acoustic guitars and try and figure out which would be used for which song.

After receiving my article they invited me to their house for lunch. I couldn't believe it! This guy had been my number one influence as a teenager and I was about to hang out with him at his home!

Gordon is a very laid back, friendly guy. After lunch he got out some of his guitars and we played through a few of his tunes. He was very polite about the mistakes I made as I played my versions, worked out when I was 13 or 14, with my inexperienced ear. The highlight for me was playing his double neck, which I'd drooled over when I first saw it on the inner sleeve of the Visionary album.

But what really impressed me was his fluidity. His fast playing always sounded very smooth on record but I'd assumed that he probably would go through a heavy practise period before a tour or album recording. That probably tells you more about my own lazy practise habits! But, just sitting in his lounge, everything he played sounded as fluent and precise as his recordings. To be able to play with such effortless mastery is truly impressive.
Dave Holmes 30/09/2012