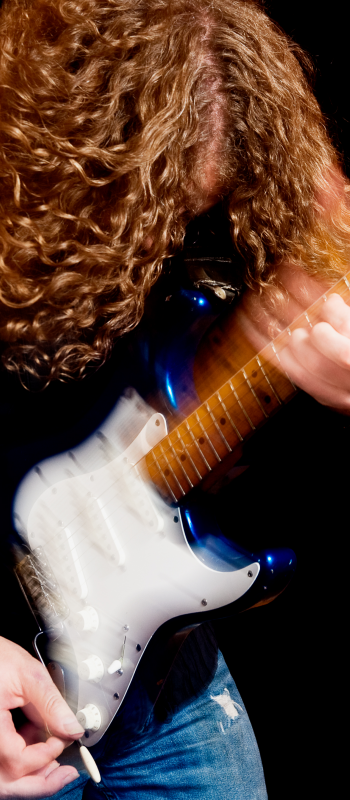 Fireman Sam session
Composer/producer: Robert Hartshorne
My equipment: Gibson Les Paul 1960 reissue, Schecter strat with Lindy Fralin pickups (not used), Gretsch Spectrasonic baritone (tuned B to B), Taylor 714 acoustic, Fractal Audio Axe-Fx.

Last week, I had a recording session for a Fireman Sam Christmas song! For anyone who doesnt know (and that included me!), Fireman Sam is a popular children's TV show. I've worked for Robert for many years and his sessions are always pretty relaxed. He has a decent studio at the end of his garden with a large control room and booth for recording vocals and acoustic instruments. The backing track and vocals were already down, so it was up to me to add the guitar parts. There's always less pressure when you're recording alone and there's usually a chance to be a bit creative.

For situations like these, when I dont know what sounds I'll have to produce in advance, I use my Fractal Audio Axe FX. In my opinion, its the best software modelling processor on the market (it should be for the price!!). It's also the quickest way of being able to produce a variety of different sounds for producers who dont want the hassle of mic'ing up several amps. When I recorded my own album I used the Fractal to add a few guitar parts and even used a combination of the processor and my Marshall HW1959 'plexi' head for the solo in my song 'Love Divine'. I'd recorded a few improvised solos in the studio with the Marshall, then, a few days later, edited the best ideas to create a composite solo. But one or two of the more interesting ideas hadnt been as well executed as I would have liked, so I recorded them again with the Axe-FX. I challenge anyone to spot the join!

We started by laying down the main distorted rhythm parts with my Les Paul, first through a crunch Marshall sound, then double tracked through a slightly driven Vox AC30. It's a combination that seems to work well. Then, I switched to my Gretsch baritone to play some fills through a twangy AC30 sound. We finished the session recording the acoustic rhythm parts.

Right from the start of my career, I decided that I would always buy the right guitar for the job, even if it meant being out of pocket. If I was offered a job for £100 and needed a specific guitar that cost £500, I would buy it. Why? Because work breeds work. Do a good first job and you'll probably get called back. One way of maximising your chances of doing a good job is to have the necessary equipment and produce the right sounds. There is another reason...I am an absolute gear-head and need very little encouragement to buy another guitar!!

The Gretsch was a real bargain on eBay. I was the only bidder and got it for the starting price. I'd never been asked for a baritone guitar on a job, so this purchase was an indulgence. A week later, Robert called and asked if there was any way I could replicate the sound of a baritone guitar. I couldn't believe it! "Robert, I've just bought one!" He loved the sound of it and after two sessions it had paid for itself. After another few jobs, it had brought in a healthy profit!


Dave Holmes 21/05/2012