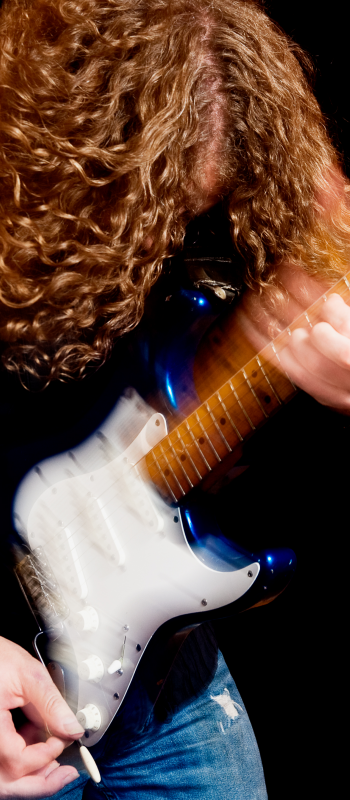 Raw album launch at the Bedford, Balham, March 4th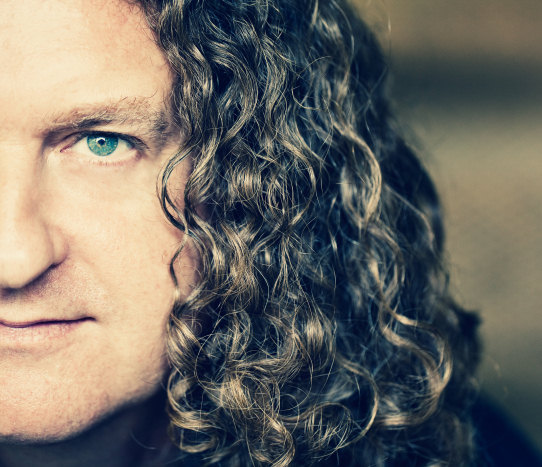 So, after various set backs and challenges along the way, we finally opened the doors at the Theatre at the Bedford in Balham and watched the audience pour in (well, a steady trickle really!). I reckon there were about 120 there, enough to fill the room and create a great atmosphere. Its a brilliant venue; a circular room, with a gallery not unlike Shakespeare's Globe Theatre. Intimate but able to withstand the volume of my kick-arse band. I had been a bit concerned whether we would be too loud for that room. Jamie Little is not the quietest drummer (thankfully) and I was using a Cornell Plexi amp for my crunch sounds that only has two controls, volume and tone. To get it to distort, you just have to turn it up. I needn't have had any concerns, the front of house sound was excellent thanks to Kev, the Bedford sound engineer.
First to hit the stage was Graham Dee singing a beautiful version of Rainy Days, accompanied by Steve Turner on piano. Sara Colman was up next performing several self-penned songs, filling the room with her effortless, soulful vocals. A mate of mine was raving about her afterwards describing her as a female James Taylor. A fair comment I'd say.
Singer-songwriter-guitarist, Graham Landi played a few of his compositions including Ashamed from his excellent Halfway Home album which I played on. I'd enjoyed recording Graham's songs and wanted him to be part of my launch. He sold a few albums too!
Then the time came for my first ever gig playing my own compositions. I'd never played anything I'd written live before, let alone performed a whole set of my own songs! As the band took to the stage I looked out at a sea of friendly, expectant faces. I relaxed a little as I realised the never-ending 'to do' list that had burdened me for the previous few weeks had suddenly been reduced to just one item, 'play the set'!
We launched into Self-Fulfilling Prophecy. There was so much energy on stage, the band seemed so fired up and as Alex ripped through the bass intro of I Can Make A Woman Of You, I thought 'just concentrate on your own parts, everything else is taken care of, this is going to be a ****ing, rocking gig'!
Everything just fell into place. The question/answer and harmony guitar parts in Will I Ever See You Again?, Love Divine and No Other Way; the backing vocals in Dare all worked a treat.
Shan Chana joined us to play percussion on Love Divine and Reason's Demise. He hadnt been available for the soundcheck so I devised a cunning plan to soundcheck his udu, (a clay pot that provided the main percussive pattern on the track) during the gig. As he came up on stage I introduced him and spoke about the udu. I asked him to give a demo for the audience. I thought most of them wouldn't have seen or knowingly heard one before and it would be interesting to hear what sounds he could get from it. The real reason however, was to give our sound engineer a chance to check levels etc. Sneaky eh!?
The only slight glitch was when I sat down to play the title track, Raw. As I started to play my little Manson Kingfisher (acoustic guitar), it started to feedback and any open strings vibrated uncontrollably, very distracting. After a few bars I stopped and asked Kev for less volume on stage which did the trick. Raw take two!
Stelar-Rey came on to sing When I'm With You. We'd worked together on Dirty Dancing in the West End and I used to play the guitar part to her as we waited in the wings before the campfire scene when I would play some acoustic guitar on stage. Once Graham and I recorded it, I played her a rough mix that I had on my phone. She absolutely melted. She loved the song. This was the first time anyone had given me such a strong positive reaction to one of my tunes. It was hugely encouraging. Graham sang this tune on the album but it tested the limit of his upper range. He made me promise that he'd never have to sing it live. So, I asked Stelar-Rey if she would perform it when I started to organise this launch gig. She sang beautifully and although I was concentrating on my part, I could see that she was really performing it. Steve joined us to play a tasty Wurlitzer solo in place of the cello solo on the album.
As each song went by I had less to remember and relaxed more. Three more tunes to go. Shifting Sand featured my Brook Creedy parlour guitar, a very small bodied acoustic tuned to DADGAD. We segue'd into Siren Song. To allow me time to change guitars and strap on my Les Paul, the final dissonant chord of Shifting Sand was held and Sara Colman enhanced it with some beautifully disturbing Arabic sounding improvised vocals.
When I was ready, I turned to look at Jamie for the count in. For me, this was the highlight of the gig. I knew from the look on his face that he was just bursting to get stuck into the Siren Song groove. And did he get stuck in!
It had been Jamie's idea to put Pleasure and Pain last. Finishing with those two rockers certainly ended the gig with a roar. I always love playing with another guitarist and playing the harmony guitar parts with Adam was yet another highlight for me. We'd whipped the audience into a frenzy (well, enthusiastic applause!) and got an encore. As we'd played everything on the album, we revisited Self-Fulfilling Prophecy, with even more energy than we'd given it at the start.
I was quite stunned by how well everyone played and Graham was on fire behind the mic. They'd all fully prepared, everything worked and I don't think I've ever heard them perform better than they did last Sunday. And we've done a huge quantity of work together in various combinations over the years. Seeing how much they were enjoying it meant so much, I felt completely supported. I've already had requests to hurry up and get on with the next album!
All in all, this gig was hugely stressful and a great deal of work, but also one of the most enjoyable and rewarding nights I've ever experienced. I can't wait to do it again!
Dave Holmes 07/03/2012